Click here to view and buy on Amazon.com
Steven's rating:

Asia's Next Giant: South Korea and Late Industrialization
by Alice H. Amstem
If you want to know how the Korean economic miracle happened (or at least one leading theory of how it happened), read this book. Be ready for a lot of numbers, tables and economic theory.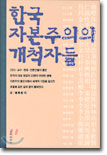 Click here to view and buy on Yes.com
Steven's rating:

한국 자본주의의 개척자들
by 조동성 외
Covering the biographies of 23 founders (and a few second-generation chairmen) of Korean chaebol, Pioneers of Korean Capitalism (my translation of the Korean title) contains fascinating information about the roots of Korean business today. This book is very business friendly, so don't expect to read here about the negative aspects of these drives of the Miracle on the Han River.